Camaro returns to Chevrolet
Well it hasn't really returned but this is a step in the right direction. Everyone here at chevy-camaro.com have been hoping and waiting for this and finally here it is a look at the new
Chevy Camaro concept car unveiled at the 2006 Detroit Auto Show.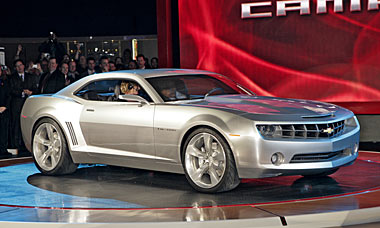 Bob Lutz, vice chairman of General Motors Corp., drove a silver-colored, low-slung Camaro down the "Chevrolet Main Street" at the 2006 Detroit Auto Show (NAIAS) and it wasn't a classic First Generation or a slick Fourth Gen. It was the new Camaro concept being introduced by GM. "Right now, it's purely a concept [that] has to go in with our other [corporate] priorities," Lutz said.
The new Camaro concept car keeps the long hood with hood bulge, short rear deck and narrow grille reminiscent of the classic Camaro, but mixes it with more contemporary styling, giving it a "retro" look. The interior adds to the retro feel with recessed gauges, a lengthy console and classic three-spoke steering wheel.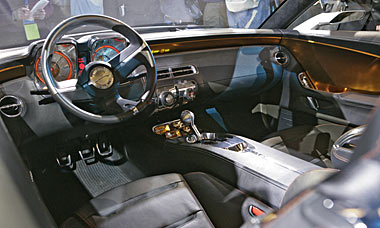 The car is 186.2 inches long and rides on a 110.5-inch wheelbase. The wheels are 21s at the front and 22s at the rear, with monster 275/30 front and 305/30 rear tires, which should be able to handle the 400 horses from the LS2 6.0-liter V-8 engine powering through a six-speed manual transmission. The underlying platform is rear-wheel drive with fully independent suspension with McPherson struts up front and a rear multi-link configuration. Because the engine has a system that automatically disables half the cylinders when they're not needed, the Camaro concept could get as much as 30 mpg on the highway.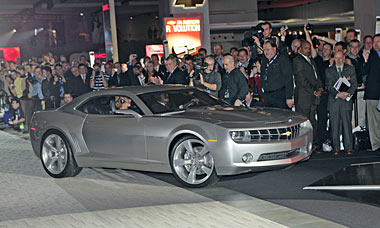 The new Camaro "will run with the best sports cars today," Lutz said, which hopefully is a hint that it will go into production and soon. "We want to deliver astonishing value." But GM officials declined to confirm that any final decision on a new Camaro has been made. They said the Camaro concept car will help them gauge public reaction about a Camaro revival. There are no plans for a 2006 or 2007 Camaro at this time. If a new Camaro is produced it will be 2008 at the earliest but more likely it will be 2009 before a new Camaro will be produced. Be sure to read our FAQ on the possibility of a 2009 Chevy Camaro.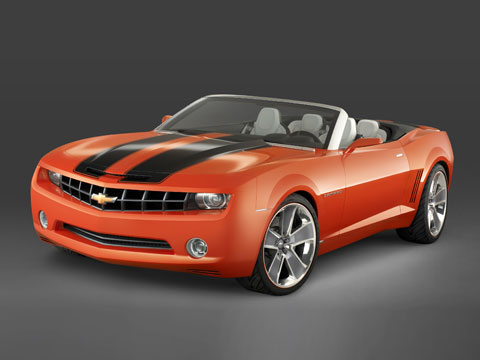 more Chevy Camaro concept convertible pictures
Bob Lutz also said the new Camaro would cost about $200 more than the rival Ford Mustang, with a base price of $19,000, but will have more equipment. He sees it as a high-volume car with sales of 120,000 to 150,000 a year. Mustang output is at around 190,000 units.
The first Camaros were designed in the mid-1960s, and the 1969 model, which was the inspiration for the new concept, was considered the best of the first-generation cars. In the first three years, some 699,000 Camaros were sold.