Camaro Decoding Help
This is a guide to help people new to decoding identify their Chevy Camaro. This is by no means complete.
ENGINE:
It takes three things to identify an engine: Casting number, casting date and engine code. The engine is the key to any Camaro or any vehicle for that matter. All GM engines had codes on them to help identify their original horsepower and application. In 1967 all final assembly plants stamped the assembly plant designation and continuous sequence number portion of the VIN on all 327, 350, 396 and 427's except for Corvette's that only the sequence number was stamped. Starting in 1968 ALL final car assembly plants stamped the Chevrolet division, model year, plant designation and continuous sequence number portion of the VIN. For help decoding the complete engine code go to engine code help. For even MORE Engine decode help.
Engine Code and partial VIN: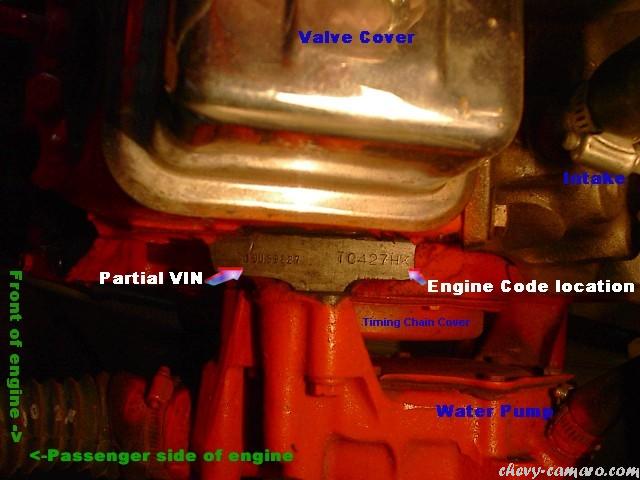 Partial VIN is "18U199887" (not the best example of a partial VIN code sorry). Decodes as "1"=Chevy, "8"=1968, "U"=Vehicle assembly plant Lordstown, Ohio and "199887"=last six digits of VIN. Beginning in 1968 VIN code letters became 1/8" high except for Norwood Camaros and Kansas City Passenger models. Before that the size seems to be different from plant to plant. Corvette VIN information from '60 to '67 was 5/32" high and did not include a plant code. No VIN was stamped on a block prior to January of 1960. The partial VIN can also be on the oil filter flange instead of on the pad with the engine code. If anyone would like to send us a picture of the partial VIN on the oil filter flange (make sure it's yours to send) we will be happy to post it on the site. Engine Code "T0427HK" decodes as "T"=Tonawanda, "04"=April, "27"=27th and "HK"=327/250hp. Engine code characters are 3/16" high. For more help check out engine code help
Chevy casting number and casting date code:


Date code decodes as letter for month, day of month and last digit of year. Month code A=Jan, B=Feb, ... to L=Dec. Example: D 25 8 decodes as April, 25th 1968. See alse Chevy casting numbers location.
Body:
The trim tag (or cowl tag) has a wealth of information including interior trim, body color and build date. The trim tag of some Camaros contain codes for Z28 or SS trim among other things. Each year Camaro trim tag is different and not all years contain additional information. Our trim tag section is complete please be sure to read it carefully for your specific year Camaro.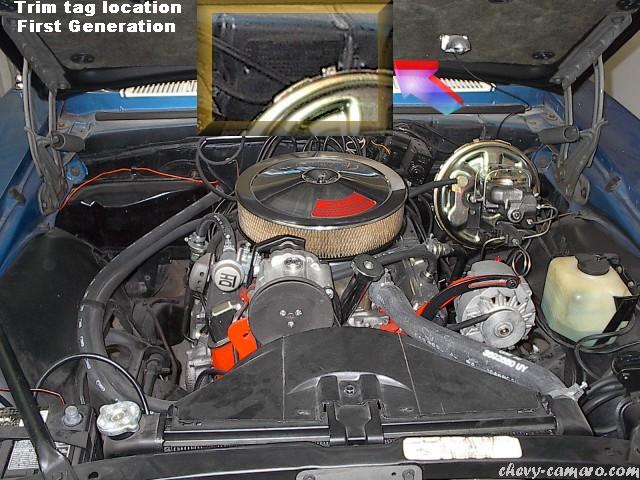 This is by no means complete. More to come ...